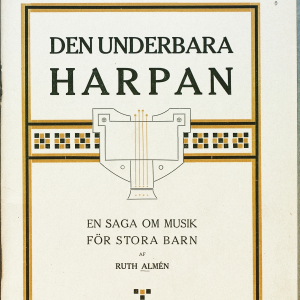 "…what drives them, those who continue, push forward and even risk their lives?
They who love music know, and will give you the answer."
This is a short excerpt from the musical fairytale "The wonderful harp" by the Swedish composer, author, pianist, poet and teacher Ruth Almén (1870-1945). The whole script is scanned and published by Projekt Runeberg and can be found (in Swedish) here. A lovely, philosophical although somewhat old-school moralizing that could be something for the stages again (maybe with some adjustments according to today's values).
Almén (pen name Rune Alm) was born in Solberga, a short way north of Gothenburg in Sweden, and lived most of her life in the city of Gothenburg. She studied composition and related subjects for Wilhelm Stenhammar, a composer who often resided in Gothenburg, but she also travelled for private lessons in Stockholm, Berlin, Copenhagen and Paris.
Not a lot of music has survived for us to play today: a piano concerto, a violin sonata, two piano sonatas, a bunch of other piano pieces, and a collection of songs set to her own and other texts. That's all she published, but considering the quality of what is left, one wonders how much she just threw away.
The only thing I find recorded is her piano sonata op. 2 in b minor which is LOVELY. Especially the third movement had me hooked. I can also see that her song "Till lifvet" (To Life) is frequently programmed by singers and choirs in Sweden.
Most of the sheet music can be borrowed from these libraries.
For most of her life, she supported herself as a teacher, and one can see her passion for that in the above mentioned musical fairytale (there is also another one called "the music gnomes"). She is also a published poet, and wrote for a number of magazines.
What I can't understand is how I can't find any single photo of her, especially considering that she lived so recently. If you have one, I would be very grateful if you would send it to me to use on this site.
På svenska:
"Till musiktomtarnas land leda tvenne vägar: den ena en bekväm, präktig kungsväg, den andra en smal passväg över bergen genom de stora skogarna. Det vill rikedom till att färdas kungsvägen, och därför kan endast ett fåtal komma fram där. Men för att färdas den andra fordras det annat och mera. Och dock är det flere, som vandra den svåra vägen, på vilken många duka under av nöd och försakelser.
Vad är det då, som driver dem att tränga framåt och våga själva livet?
Fråga dem som älska tonkonsten."
Så skriver tonsättaren, författaren, pianisten, poeten och läraren RUTH ALMÉN (1870-1945) i musiksagan Den underbara harpan som finns skannad av Projekt Runeberg och går att läsa i sin helhet på nätet. En jättefin, filosofisk och något pekpinnig saga som man kanske kunde göra på en scen idag igen? (Ev. med vissa tidsenliga justeringar)
Almén (pseudonym Rune Alm) föddes i Solberga i norr om Göteborg och levde stora delar av sitt liv i Göteborg. Studerade kompositionsämnen för Stenhammar hemmavid men var också iväg och tog privatlektioner i Stockholm, Berlin, Köpenhamn och Paris.
Inte jättemycket musik av Almén finns att spela idag: en pianokonsert, en violinsonat, två pianosonater och ett gäng andra pianostycken, samt en samling sånger till egna och andras texter. Mer gav hon inte ut, men man undrar med tanke på kvalitén om det inte har funnits massa mer som hamnade i papperskorgen? Det som finns inspelat, vad jag hittar, är pianosonaten op. 2 i h-moll som är JÄTTEFIN. Särskilt talar tredje satsen till mig. Det verkar också som att hennes sång Till lifvet frekventerar program lite här och där, men har som sagt inte lyckats lyssna på något mer. Noter finns i alla fall att låna på biblioteken om du vill spela!
Hon försörjde sig som musiklärare i Göteborg, och man märker hennes passion för detta när man läser ovan nämnda musiksaga (det finns ytterligare en som heter Musiktomtarna). Förutom att skriva musiksagor var hon också publicerad poet, och skrev för div. tidningar.
Hur är det möjligt att jag inte hittar ett foto på Almén någonstans, dessutom när hon levde så nyligen? Om du sitter på ett vore jag glad om du ville skicka det till mig.