M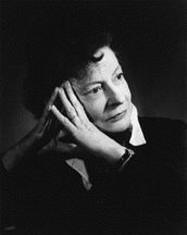 y professor was exceedingly upset about this: 'Once maternity takes hold, and that in marriage is inescapable, that's the end of your composing'. True, we did indeed produce 'one S' and 'one D' (as the dictionaries say) but oddly enough my output appeared to increase.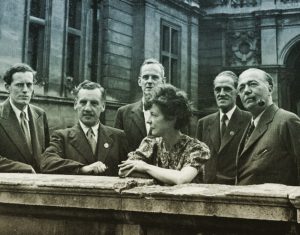 Phyllis Tate (1911-1987) English composer and quite the character! Expelled from school at 10 years old, thereafter she didn't set foot in a school until she enrolled at the Royal Academy of Music at 17 years old. She was headhunted to the academy when a professor heard her play the ukulele, but the subjects she studied were timpani, composition and conducting.
All the music she composed before 1940 she destroyed herself, so what's left for us to play today are pieces written after this year. Even so, there is A LOT for everyone to find, for all sorts of instrument combinations and occasions. She seems to have had an eye for unusual instrument combinations, how about e.g. Nocturne for four voices, string quintet, bass clarinet and celesta – or Songs for barytone, flute, clarinet, bassoon, french horn and harp. Of course, there are also the usual works for orchestra, sonatas, choir pieces, operas etc. Tate is however perhaps most known in Britain today for her Christmas carols.
Her works vary in difficulty from the most virtuoso parts to educational works for young musicians. She said in a radio interview that writing for not yet fully proficient musicians has taught her the best lessons of finding simplicity and the essence of music, and that it is much harder to write music for children than for adults!
Tate also said that "music should entertain and give pleasure" which certainly can be heard in the orchestra suite London Fields, which is as summery and floral as it seems. For contrast, one can hardly believe that the same composer is behind Triptych for violin and piano and the opera the Lodger. This opera was by the way reviewed like this after its premiere: 'Other than Peter Grimes this is probably the most successful "first" opera by a native composer since the war' (Harold Rosenthal in the Musical Times, September 1960).
There is a great website dedicated to Phyllis Tate: www.phyllis-tate.com They give you a complete works list, Tates own info on all pieces, where to get hold of scores etc. Go explore!
På svenska: Dagens inlägg är inspirerat av Anna Fronczaks episka examenskonsert härom veckan där hon bl.a. framförde Phyllis Tates sonat för klarinett och cello. Så himla bra musik! Så, världen, låt mig få presentera PHYLLIS TATE (1911-1987) engelsk kompositör. Hon verkar ha varit en karaktär utöver det vanliga, redan som tioåring blev hon relegerad från skolan pga att hon sjungit nåt opassande som hennes egen pappa lärt henne. Därefter gick hon inte mer i skolan förrän som 17-åring på Royal Academy (hon blev headhuntad på en konsert där hon spelade ukulele) där hon studerade timpani, komposition och dirigering. All musik som hon skrev innan 1940 förstörde hon själv, så det är verken från efteråt som finns att spela idag och här finns att gräva ur för alla sättningar och sammanhang. Hon verkar ha haft en förkärlek för ovanliga kombinationer (vad sägs om tex Nocturne för fyra röster, stråkkvintett, basklarinett och celesta, eller Songs för baryton, flöjt, klarinett, fagott, horn och harpa) men här finns också "vanliga" orkesterverk, sonater, körverk, opera etc. och för den vanlige engelsmannen är hon idag mest ihågkommen för några julsånger. Hon har skrivit för alla svårighetsgrader, barnorkestrar som virtuosa världsmästare. Hon har själv sagt i en radiointervju att skrivandet för skolor har lärt henne så mycket i att hitta enkelhet i det musikaliska hantverket och kommunikationen, och att det är mycket svårare att skriva ett bra stycke för barn än för vuxna. Tate har också sagt att "music should entertain and give pleasure" och det kan man tex höra i orkesterverket London Fields som är sådär underbart sommartablåunderhållande men ändå med substans, men så har vi å andra sidan den mycket kärvare Triptych för violin och piano eller operan The Lodger. Man tror knappt att det är samma upphovsperson. Hon ska dock under sitt långa yrkesliv inte alls ha brytt sig om rådande trender inom konstmusiken utan bara skrivit det hon kände för.
Det finns också en matnyttig och fin hemsida dedicerad enkom till Phyllis Tate: www.phyllis-tate.com Ös härur för komplett verklista, Tates egna ord, länkar till notköp m.m.