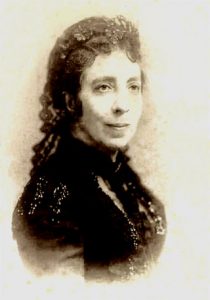 Pauline Garcia Viardot (1821-1910) french-spanish composer, singer (mezzo), piano virtuoso, teacher, music salon patroness. Described as opulent, temperamental, exotic and seems to have been the centre of all the European cultural elite of her days. Fact is, you could get away by only reading her biography to get to know EVERYONE from those days – from Tchaikovsky via the Schumanns to Saint-Saëns.
Born in Paris into a Spanish family of musicians – the mother, father, brother and sister Maria Malibran were all successful singers. Viardot studied piano for Liszt and counterpoint for Reicha, but was mainly taught by her mother who steered her into her singing career. Viardot often played piano with her friend Chopin, whose mazurkas she arranged for voice (as she also did with other instrumental music by e.g. Haydn and Schubert). And in the same circle she met George Sand who based her bestselling novel "Consuelo" on Viardot.
1890 Viardot was included in the Royal Swedish Academy of Music.
Her works list reflects the fact that she was a professional singer: the songs dominate and depending on sources number between 50-200 (!). In concert, she would often perform her own compositions and accompany herself on piano. The songs are in a wide range of languages, a fact showing the many places she lived. For instance, she was for several seasons employed at one of the operas in St Petersburg, and for political reasons lived a few years in Baden-Baden. Don't miss Cecilia Bartoli's recordings of some of her French songs! Generally, there are a lot of strong, dramatic songs – if you are looking for inspiration for those.
Viardot is also known for her four operettas and one (or two?) opera(s), and for me this music stands out as favourites from her production. One of them, Le dernier sorcier for singing and speaking roles, childrens' chorus & piano, is recorded in its complete form and can be found on Spotify (embedded here below).
After hearing one of Viardot's operettas Clara Schumann, Viardot's friend of almost the same age, called Viardot the most brilliant woman she has ever seen. Liszt called her the first woman composer genious (regulars to this site of course know that Liszt probably hadn't studied his music history very well, but anyway nice of him to say so).
Several of her children followed in the family's footsteps: daughter Louise Héritte-Viardot also became a composer (and writer), her son Paul a violinist and composer, and two more daughters became professional singers.
There is a wealth of music already recorded and a lot of thick books about her written, so go explore!
Did this leave you a feeling of wanting to play and sing her music yourself? Some sheet music can be found here.
På svenska: Pauline Garcia Viardot (1821-1910), fransk-spansk kompositör, arrangör, sångerska (mezzo), pianist, pedagog, salongsvärdinna. Beskrivs som flärdfull, temperamentsfull, exotisk och verkar ha varit en spindel i hela sin tids nät av europeiska kulturelit. Faktum är att det skulle räcka att läsa hennes biografi för att lära känna ALLA från tiden – från Tjajkovskij via paret Schumann till Saint-Saëns.
Född i Paris i en spansk musikfamilj där både mamma, pappa, brodern och systern Maria Malibran var framgångsrika sångare. Studerade piano för Liszt och kontrapunkt för Reicha, men drillades främst av sin mor som riktade in henne på att bli sångerska. Viardot spelade ofta och gärna piano med sin vän Chopin, vars mazurkor hon textsatte och arrade om för sång (vilket hon också gjorde med instrumentalmusik av andra som Haydn och Schubert). Och i samma krets mötte hon såklart författarinnan George Sand som baserade sin bästsäljande roman "Consuelo" på Viardot. 1890 blev hon ledamot i (den svenska) Kungliga Musikaliska Akademien.
Att hon var sångerska till yrket reflekteras i hennes verklista där sångerna dominerar och på konserter framförde hon ofta sina egna kompositioner med sig själv på både sång och piano. Sångerna är på alla möjliga språk som reflekterar de länder hon var bosatt i. Bl.a. var hon i flera säsonger anställd på operan i St Petersburg, och bodde även i Baden-Baden av politiska skäl i några år. Missa inte Cecilia Bartolis inspelningar av några av hennes franska sånger! Generellt finns det många starka och dramatiska sånger om nån letar efter inspiration till sådana.
Viardot är också känd för att ha komponerat fyra operetter och två operor, och för mig sticker den här musiken ut som favoriter. En av dem, Le dernier sorcier för sångsolister, skådespelare, flickkör och piano finns i sin helhet att lyssna på Spotify (inbäddad här nedan).
Clara Schumann, Viardots nästan jämnåriga vän, hävdade efter att hon hört en av operetterna att Viardot är den mest briljanta kvinna hon nånsin känt. Liszt kallade henne det första kvinnliga kompositörsgeniet.
Flera av hennes barn följde i familjens yrkesbana: dottern Louise Héritte-Viardot blev också kompositör men även författare, sonen Paul violinist och kompositör, och två ytterligare döttrar blev sångerskor.
Väldigt mycket finns inspelat, och det finns många tjocka böcker om henne för den som vill djupdyka!
Sugen på att spela/sjunga själv? Noter finns här.