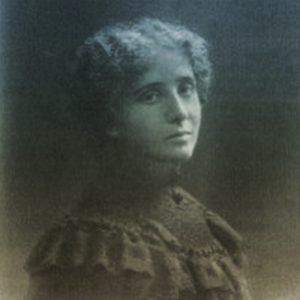 Let's look at many flutists' favourite: Mel Bonis (1858-1937), French composer. Her name was actually Mélanie but she signed her works Mel Bonis – which of course sounds more gender neutral.
She was a pianist and organist herself, and from the age of 16 she started studying composition at the Paris conservatoire for teacher César Franck. Her classmate was at the time the later famous Claude Debussy. For anyone looking for a juicy but lifelong sad love story can dig deeper into the life of Bonis. Perhaps as a consequence of this she became a person that kept herself to herself and was never part of the cultural establishment of her days.
Today, over 300 of her compositions are available to us, ranging from large orchestral and choral works to songs and chamber music. Her solo pieces are for as large instruments as the organ or as small as the flute. From her later years we have a lot of sacred music, and like Phyllis Tate she also composed educational works. Many of her compositions were in fact commissions from esteemed publishers, so you can imagine that she was widely published and distributed during her lifetime. From 1911 she was also the secretary of the French composers' association.
Some recommended listening:
A more beautiful way of combining the flute, cello and piano cannot be found than in her Suite Orientale op. 48. This piece can also be played as a piano trio, but it works so much better with the flute. She also arranged this piece for orchestra.
I also love Scènes de la Forêt op. 123 for flute, horn and piano.
Which is your favourite piece by Bonis?


PÅ SVENSKA: Idag spanar vi in många flöjtisters favorit MEL BONIS (1858-1937), fransk kompositör. Hette egentligen Mélanie men signerade sina verk Mel Bonis, förmodligen för att råka uppfattas som en manlig kompositör. Musiken hon skrev sträcker sig från romantiken och leder stadigt in i impressionismen.
De instrument hon själv trakterade var piano och orgel, och vid sexton års ålder började hon studera komposition och ackompanjering vid Pariskonservatoriet för bl.a. César Franck och i skolbänken bredvid satt den sedemera berömde Debussy. Den som vill ha en juicy men livslångt sorglig kärlekshistoria kan få sig mycket till livs i berättelsen om Mel Bonis. Kanske till följd av det höll hon sig till sig själv och var aldrig en del av den svärmande kultureliten.
Vi kan idag botanisera mellan över 300 verk av Bonis, stora orkester- och körverk såväl som sånger, kammarmusik och verk för något ensamt instrument, må det vara en maffig orgel eller en liten flöjt. Från senare delen av hennes liv hittar vi mycket sakral musik. Liksom Phyllis Tate har Bonis också komponerat pedagogiska verk för barn. Mycket av det hon skrev var beställningsverk från framstående franska utgivare, och hon blev alltså publicerad och distribuerad rejält medan hon levde. Från 1911 var hon dessutom sekreterare i styrelsen för den franska tonsättarföreningen.
Lyssningstips! Finare sätt att få en flöjt, cello och piano att klinga tillsammans finns inte än i Suite Orientale op. 48. Spelas ofta även som pianotrio, med violin, men jag tycker den gör sig mycket bättre med flöjt. Detta stycke finns också (av henne själv) arrangerat för orkester. Njuuut också genast av Scenes de la forêt op. 123 för flöjt, horn och piano. Vilket är ditt favoritstycke av Bonis?