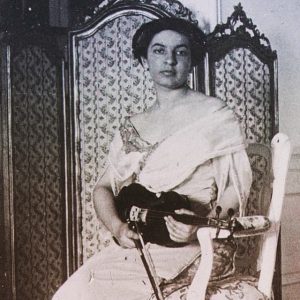 "Let it [our child] develop like a plant, and if it has some great talent, give it everything to encourage this talent; above all, give it freedom, when it seeks it […] and so act the same way if it is a boy or a girl; every talent, every genius, requires equal consideration, and sex cannot be allowed to come into the matter." – Pejačević in a letter to her husband, October 1922
How many Croatian composers do you know of? Here is one to explore: Dora Pejačević (1885-1923), who wrote 58 works for us to play and listen to today. Pejačević's CV is long: composer, pianist, violinist, actress, countess and raging socialist, patron of the arts and artists.
Born in Budapest in the country that was then Austria-Hungary. The family moved to Zagreb where she began private studies in violin, music theory and instrumentation for the professors at the Croatian music academy. She then continued her education in Dresden and Munich, still as a private student but for the major professors of these cities. Wherever she went, her music was also performed, not only in the beforementioned cities but also in Vienna and Prague. In 1918, the Croatian music institute even held a showcase concert with music only by her. Her symphony was performed many times during her life, always with fantastic reviews.
Her music is late romantic, but you can hear a clear development in style from her early pieces to her later. She was very against the concept of program music, however touching on it in e.g. her piano pieces on flowers op. 19.
During her lifetime, the world she came from changed dramatically both politically and socially, and the advantages in being born a duchess vanished completely. She also volunteered as a nurse during WW1 and experienced the change from this perspective too.
Sadly, she passed away already at age 38 following complications that arose after giving birth to her son, and left sketches to another symphony, music for male choir, a prelude for orchestra etc. After her death she was performed less and less, however after the celebrations of the centenary of her birth (1985) her music is now heard quite often, especially in eastern Europe. 1993 there was also a film made, Countess Dora, loosely based on her dramatic life.
Recommended listening:
Wind players have many juicy solos to look forward to if they get the chance to play her Symphony in f sharp minor op. 41
Her piano concerto op. 33 is said to be the first Croatian solo concerto
Canzonetta for violin and piano, among other beautiful smaller pieces
The piano trio op. 29!
A totally different character is the Ouverture for orchestra op. 49
Many of her lieder seem to be for alto voice, a tip for all you altos.
And of course the beloved cello sonata op. 35
More info here and some sheet music can be found here.
På svenska:
Hur många kroatiska kompositörer känner du till? Här kommer en att lägga på minnet! Av Dora Pejačević (1885-1923) kan vi idag spela och lyssna till 58 opus för olika sättningar. Kompositör, pianist, violinist, skådespelerska, grevinna och aktiv socialist, mecenat för konsten och dess utövare.
Född i Budapest i vad som då var landet Österrike-Ungern. Familjen flyttade till Zagreb där hon påbörjade studier som privatist för lärarna på Kroatiska musikinstitutet i violin, musikteori och instrumentation. Studerade vidare i Dresden och München, fortsatt som privatelev, men för de stora professorerna i komposition och violin vid akademierna. I alla dessa städer fick hennes musik höras på konsertscenerna, men också i t.ex. Wien, Prag och Budapest. Kroatiska musikinstitutet höll till och med en porträttkonsert till hennes ära med bara musik av henne i april 1918. Hennes symfoni uppfördes på många prestigefyllda ställen under hennes livstid, alltid med kanonfina recensioner. Musiken är i senromantisk stil men man hör en utveckling från de tidiga opusen till de senare, och hon var en uttalad motståndare till konceptet programmusik, även om hon snuddar vid konceptet i t.ex. hennes pianostycken om olika blommor op. 19.
Under hennes livstid förändrades hennes värld dramatiskt i och med att både landet hon bodde i liksom den samhällsställning hon hade förlorades i samband med första världskriget. En förändring hon fick ta del av dels som medlem i den absoluta samhällstoppen likväl som frivillig sjuksköterska på krigens fält.
Hon gick dessvärre bort i sviterna av en förlossning 38 år gammal, och lämnade efter sig skisser till en andra symfoni , manskörsmusik, ett orkesterpreludium mm. Därefter spelad mer och mer sällan – men i och med satsningar under jubileumsåret för hennes 100-årsdag (1985) så har hennes musik åter tagits upp på repertoaren,  särskilt i Östeuropa. 1993 gjordes också filmen Countess Dora, fritt om hennes liv.
Lyssningstips!
Blåsare kan njuta av många fina solon om de får chans att spela Symfoni i fiss moll op. 41. Hennes pianokonsert op. 33 med orkester sägs vara den första kroatiska solokonserten. Canzonetta för violin och piano (bland många fina violinstycken). Pianotrion op. 29! En helt annan karaktär har orkesterouvertyren op. 49. Många av hennes lieder verkar vara för altröst, tips till alla altar därute. Och så har vi ju den älskade cellosonaten op. 35.
För den som vill ta del av ambitiösa programkommentarer till flertalet av Pejačevićs verk så har Yngve Bernhardsson gjort ett stort jobb och allt finns publicerat att ta del av på Kammarmusikförbundets hemsida. Mer info här och några noter hittar du här.