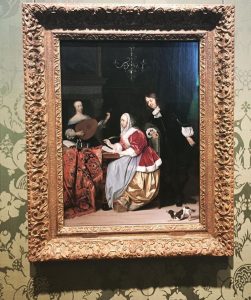 This website is an introduction to the life and works of fantastic composers from the past. If you would like to learn more I highly recommend these sites where I often find inspiration:
SHEET MUSIC
IMSLP's sheet music by women composers
FOR INTERNATIONAL READERS…
Naxos Music Library
If it ever was recorded, you can stream it here.
For holders of Swedish library cards: if you log in with you card the service is free of charge!
Oxford Music Online – timelines in music history: Women in music
An excellent overview when you're starting out this journey.
Women of Note (Ambache)
A thorough and fantastic collection and analysis of music composed by women.
Swedish musical heritage
Swedish composers, women and men, from all times complete with biographies, works lists and sometimes even sheet music free to download. Amazing!
Kapralova Society
An extensive and impressive database. Lists, biographies, articles. You can spend hours here.
Vox femina
Organist Robert Öhman has compiled a list of 2000 titles from 400 years of organ music. Wow!
Kassia Database of Arts Songs by Women Composers
A wealth of information on art songs for all voices, skill levels and from all musical eras.
A History of Classical Music (The Women-Only Version)
An article from the New York Times with sound examples.
Listening to Ladies
A podcast and a resource
Hildegard to Hildegard
A radio program with 100% women composers
The wind repertory project
For all you band leaders out there.
Programming resources
Scroll down to see a fantastic link list to other sites that feature works written by non-cis composers.
Horn players!
Check out this extensive list! Also all ensembles where a horn might be present, e.g. wind quintets.
1200 Years of Women Composers
A 78 hour playlist.
Enciclopedia delle donne
In Italian, but Google translate does a good job.
FOR SWEDISH READERS…
Kvinnliga tonsättare genom tiderna
En stor samling korta biografier från alla tider och länder.
KVASTs repertoarbank
Ordnad efter sättning, mycket samtida musik från Sverige.
Klassisk morgon, klassisk förmiddag
…med flera program och programserier på P2 inspirerar mig alltid. De spelar sådana mängder låtar på en dag och onekligen blir några av dem av tonsättarkvinnor.