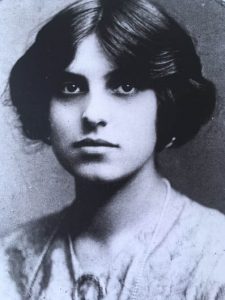 Morfydd Owen (1891-1918) Welsh composer, pianist and singer.
From an early age, it was clear that music was the path that Morfydd Owen would choose and master. Her parents, both amateur musicians, encouraged this. The story goes that she wrote her first piece when six years old, but she started her formal training at 16. Two years later her first composition was published, the hymn Morfydd, and she enrolled at Cardiff University as a composition student. It is now that she starts to write for the orchestra. On graduating in 1912 she was included in a Gorsedd, a fellowship of modern bards and a true honour in Welsh culture. She then moved on to London to study composition, singing and piano at the Royal Academy of Music and during this time she received so many awards and medals that apparently the quantity has not been surpassed by a student since. Her works were played during Proms concerts and published by both Boosey and Chappell. She was part of the Hampstead literary circles and was there introduced to Russian and Finnish folk music which inspired her. She also collaborated closely with Lady Ruth Lewis, an authority in Welsh folk songs, and they published essays and music arrangements together.  In between all this she also performed as a singer (mezzo) and pianist. 1918, that is when she was 26 years old, she was appointed sub-professor at the Royal Academy of Music.
Just when everything seemed to be flying, she passed away under very dubious circumstances leaving us with some questions to her husband. She wrote around 180 pieces during her decade as a composer – there is music for orchestra, choir, chamber music and around 100 songs. After her death a scholarship in her name was founded, and the first recipient was Grace Williams in 1923.
The Welsh are immensely proud of Owen so she is well-documented, -performed and -recorded.
Suggested listening:
– If her Nocturne (1913) for orchestra doesn't embody the word "magical" I don't know what does
– The orchestra piece Morfa Rhuddlan (1914) is magnificent
– The piano sonata in E minor is a really eclectic mix of influences that it just becomes something of its own
– I would love to hear The Refugee for mixed chorus and piano one day
A selection of her works are listed here.
Sheet music can be bought e.g. here and here.
Manuscripts and other archival material is kept at Cardiff University.
A radio documentary about Morfydd Owen by Radio Wales.
And if you think copyright is an exciting field to study, here is some interesting reading connected to the music of Morfydd Owen.
PÅ SVENSKA: Morfydd Owen (1891-1918) walesisk kompositör, pianist och sångerska.
Owen visade tidigt att musik var vägen hon skulle gå, vilket uppmuntrades hemma där båda föräldrarna var amatörmusiker. Det sägs att hon skrev sin första låt vid sex års ålder men började sina formella studier i komposition vid 16 års ålder. Två år senare utgavs hennes första verk, hymnen "Morfydd", och i samma veva kom hon också in på kompositionslinjen vid Cardiff University. Här började hon på allvar skriva för orkester. När hon tog sin examen därifrån 1912 blev hon också invald i en Gorsedd, som är en sammanslutning av moderna barder och en verklig hedersbetygelse i walesisk kultur. Därefter styrdes kosan mot Royal Academy of Music i London för studier i komposition, sång och piano och under hennes fyra år där finns en lista på priser och medaljer hon fick för sina kompositioner som är, jag säger er, LÅNG. Tydligen har den ännu inte överträffats av någon student sen dess. Hennes verk spelades under Proms och gavs ut på löpande band hos både Boosey och Chappell. Hon levde ett flärdfullt liv i Hampsteads internationella litterära kretsar och blev där introducerad till rysk och finsk folkmusik som hon fann inspiration i. Hon var också nära Lady Ruth Lewis, en auktoritet på walesisk folksång, och de samarbetade kring publikationer och arrangemang. Inemellan allt detta konserterade hon också som mezzo och pianist. 1918, alltså 26 år gammal, blev hon utnämnd till "sub-professor" på Royal Academy of Music.
Just när allt skulle ta fart dog Owen, och det dessutom under mycket mystiska omständigheter som lämnar bl.a. hennes make i tveksamt ljus. Ca 180 verk hann hon skriva under sitt decennium som kompositör, otroligt, och här finns musik för orkester, kör, kammarmusik, och runt 100 sånger. Efter hennes död instiftades ett stipendium i hennes namn och den första mottagaren var Grace Williams 1923.
Walesarna är oerhört stolta över Owen så hon är väldokumenterad, spelad och inspelad. Lyssningstips: om inte hennes Nocturne (1913) för orkester låter "magisk" så vet jag inte vilken musik som förtjänar det ordet. Orkesterverket Morfa Rhuddlan (1914) är verkligen magnifikt. Pianosonaten i e-moll är en sån spännande mix av influenser att den blir nåt alldeles eget. Jag är så nyfiken på att höra The Refugee för blandad kör och piano.
Ett urval ur hennes verk finns listade här.
Noter kan köpas bl.a. här och här.
Manuskript och annat arkivmaterial finns hos Cardiff University.
Om man är intresserad av upphovsrättsliga knutar finns här spännande läsning med anknytning till Morfydd Owen.