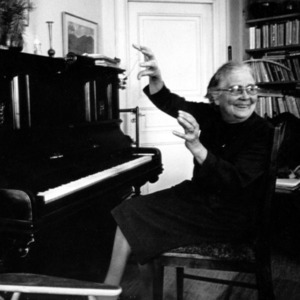 HELVI LEIVISKÄ (1902-1982)
Helvi Leiviskä was born in Helsinki, Finland. Her father was a priest and her religious upbringing founded her life-long spirituality (she was later to become active in the theosophical movement). At a point she considered to become a deacon herself, however, encouraged by her mother, music was to become her path.
In 1919 she enrolled at the Music Academy in Helsinki, studying piano and pedagogy. The dream of becoming a composer led her to private lessons for the Academy's professor in composition Erkki Melartin, who saw Leiviskä's talent and became a great supporter of her. She graduated in 1927 with a diploma in composition, which was followed up with a series of educational journeys to Vienna where she perfected her orchestration skills.
What a variety of expressions she was able to create! Just listen to the violin sonata op. 21: the first movement is really coarse, which she follows up by the most sincere and beautiful second movement (without losing any of her modern edge). She often contrasts the movements in her compositions like this. Her early pieces have a hint of late romanticism, but she then ventures to the modernism soundscapes with full speed, eventually landing in atonality. Leiviskä's music is heavy stuff, highly expressive, and demands a lot from its performers and audiences.
Her compositions may not be many in number, but she compensates with size since many of them are for orchestra: nine orchestra works including her symphonies, two pieces for chorus and orchestra with the enchanting names Hobgoblin of Darkness and The Lost Continent, one piano concerto and one intermezzo for violin and orchestra, several film scores (of which some were also tuned in to the aforementioned orchestra works). Among her chamber music we find e.g. two piano trios, a piano quartet, and pieces for violin or voice and piano.
From the time of her father's early passing, she as the oldest child became the provider for all her siblings and mother. To make ends meet, she worked as a piano teacher, music librarian and music critic. Composer she was by night.
In 1962 she was awarded the Pro Finlandia Medal of the Order of the Lion of Finland, and she was a member of the Society of Finnish composers.
As from 2002 there is a Helvi Leiviskä society dedicated to promoting her music.