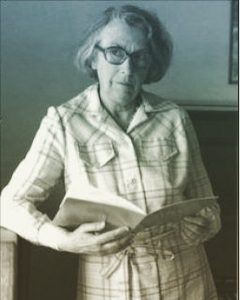 Grace Williams (1906-1977) Welsh composer, especially known for her works for orchestra.
Thanks to a scholarship in memory of another Welsh composer, Morfydd Owen, Williams could undertake higher studies in music in Cardiff and then at the Royal College of Music in London, where Vaughan-Williams was her professor of composition. She then won another scholarship which enabled her to study a year in Vienna. 1931 she returned to London and already during these years her works were often performed and broadcast. 1946 she decided to move back to her roots and supported herself entirely (after a few years teaching) as composer. Many of the major institutions in Britain, e.g. the BBC and the symphony orchestras, festivals and Eistedfodds, commissioned both large ("serious") works from her, as well as incidental music and arrangements. During this time her film score to "the Blue Scar" (1949) was written. On her 70th birthday, BBC Wales made a whole program celebrating her music, by which time most of her major works had been properly recorded.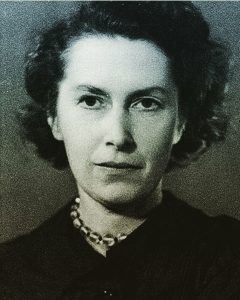 Williams started composing already as a little girl, often sitting on the beach with her sketchbook. The sea remained her biggest inspiration and this can be noted in many titles, e.g. Sea sketches (1944) for string orchestra, and Ave maris stella (1973) for choir which is often programmed in Britain today.
Her welsh identity is also very present in her music and the titles of her music, e.g. Hen Walia (1930) for orchestra, Hiraeth (1951) for solo harp, and of course the two works that probably are her most played today: Fantasia on Welsh Nursery Tunes (premiered in a live radio broadcast by the BBC Philharmonic in 1940, recorded in 1941 by the London Symphony Orchestra), and Penillon (1955, the title refers to an improvisational style of singing from Wales).
1966 she was awarded an OBE, but turned it down.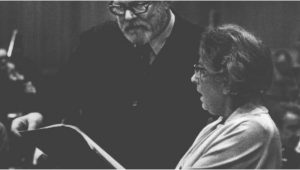 As mentioned, Williams' music is well recorded, so there is a lot to explore! My suggestion is to start listening to her latest works and work yourself backwards in time.
Here are some of my highlights that haven't been mentioned above:
Carillons, concertino for oboe and orchestra (1965/1973).
The Dancers – songs in five movements för soprano soloist, female choir, string orchestra and harp (1952, premiered by Joan Sutherland in 1954 which became one of Sutherland's first recording successes).
Symphony no 2 (1956).
Sonatina for flute and piano (1931).
Trumpet concerto (1963).
Here you can find a complete list of works and sounding examples
I'm also curious about, but haven't heard:
Missa Cambrensis for soloists, reciter, choir and orchestra (1971) which apparently had a badly rehearsed disaster of a première, Williams was seen in tears due to the awful performance, but it has since been recognised as her finest work.
One gets curious about how she has tackled the challenge resulting in her "Seven scenes for young listeners"
And how does "Variations on a Swedish tune ("the Shoemaker") for piano and orchestra" sound when processed by her?
I have read so much praise over her genious comical opera "The Parlour" (1966)
All her manuscripts are kept at the National Library of Wales and some sheet music can be bought here and here.
På svenska:
Grace Williams (1906-1977) walesisk kompositör särskilt känd för sina orkesterverk.
Tack vare ett nyligen instiftat stipendium till minne av en annan walesisk komponerande kvinna, Morfydd Owen, kunde Williams studera musik i Cardiff och direkt efter examen styrdes kosan mot Royal College of Music i London och läraren Vaughan-Williams. Efter att ha vunnit ytterligare ett stipendium kunde hon även studera ett år i Wien. 1931 återvände hon till London och under denna tid spelades hennes musik ofta både live och på radio. 1946 bestämde hon sig för att flytta tillbaka till sin barndomsort och livnärde sig nu, efter en tid som lärare, i princip bara som kompositör. Många av de tunga aktörerna i Storbritannien, t.ex. BBC och landets symfoniorkestrar, festivaler och Eistedfodds (walesiska litteratur- och musikfestivaler), beställde nu både (vad man slarvigt kunde kalla) "seriösa" verk av henne men också arrangemang och "bakgrundsmusik" för radio och tv. Här kan vi nämna t.ex. musiken till filmen "Blue Scar" (1949). På hennes 70-årsdag spelade walesiska BBC ett helt program med hennes musik, vid denna tid hade alla hennes större verk blivit ordentligt inspelade.
Williams började komponera redan som skolungdom, och satt ofta med notblocket och skissade på stranden. Havet förblev hennes främsta inspiration vilket märks bl.a. i titeln Sea sketches (1944) för stråkorkester och körverket Ave Maris Stella (1973), verk som tillhör standardrepertoaren i Storbritannien.
Att hennes walesiska identitet var stark syns tydligt i hennes musik, exempelvis orkesterverket Hen Walia (1930) och soloharpverket Hiraeth (1951), för att inte tala om de två verk av henne som kanske spelas mest idag: Fantasia on Welsh Nursery Tunes (uruppförd i en radiosändning av BBC Philharmonic Orchestra 1940, inspelad av London Symphony Orchestra 1941) och Penillion (1955, titeln anspelar på en improvisatorisk sångstil från Wales).
1966 blev hon tilldelad en OBE, en brittisk riddarutmärkelse som delas ut av monarken och som gör att man kan titulera sig Dame eller Sir, men den tackade hon nej till.
Williams är en ganska väl inspelad kompositör, så in och leta där du brukar lyssna på musik. Lyssningstips från mig är att börja med verk från slutet av hennes liv och jobba dig bakåt i tiden.
Några highlights, förutom ovan nämnda verk:
Carillons, concertino för oboe och orkester (1965/1973).

The Dancers – sånger i fem satser för sopransolist, damkör, stråkorkester och harpa (1952, uruppförd av Joan Sutherland 1954 och blev en av hennes första succéer).

Symfoni nr 2 (1956).

Sonatina för flöjt och piano (1931).

Trumpetkonserten (1963).
Jag är även nyfiken på:
Missa Cambrensis för sångsolister, recitatör, kör och orkester (1971) var tydligen en underrepeterad katastrof när den uruppfördes och Williams var enligt vittnen i tårar av det förfärliga framförandet, men räknas sen dess som en av hennes finaste hantverk.

Visst blir man också nyfiken på hur hon jobbat med musiken i "Seven scenes for young listeners"?

Och hur låter "Variations on a Swedish tune ("the Shoemaker") for piano and orchestra" i hennes händer?

Alla hyllar genialiteten i den komiska operan The Parlour (1966)