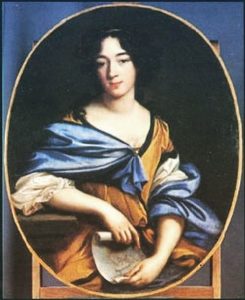 This portrait, often used to illustrate Bembo, is in fact a self-portrait by the French artist Élisabeth Sophie Chéron.
Antonia Bembo, born Padoni/Padoani, (1640-1710) Italian composer and singer but enjoyed most of her career living in France. When speaking about the two baroque styles, the French and Italian, it is interesting to listen to someone who has a finger in both pies and combined elements of both freely.
Born in Venice and received a very thorough music education. She was married off to a man who turned out to be…not God's best creature, and she tried to divorce him but failed. She then simply took her stuff and kids and moved to Paris where Louis XIV, after he heard her sing, sorted her out economically. Thereafter not much is known about her, apart from her music that was published and is now kept at the French National library.
Most of the music is vocal, often with very advanced soprano parts which implies she was quite the singer herself. She wrote both sacred and profane music, and for all the genres of the time: cantatas, motets and an opera – l'Ercole amante from 1707.
Some sheet music for you here (scroll down to "Music").
På svenska: Idag en gigant som spelas mycket världen över nuförtiden: ANTONIA BEMBO född Padoni/Padoani (ca 1640-ca 1710) italiensk kompositör och sångerska men levde en del av sitt liv (och dog i) Frankrike. Inom barocken är det ett himla tjat om italiensk vs. fransk barockmusik och då är det rätt intressant (tycker jag) att lyssna på en som har fingrarna i båda syltburkarna. Och så min personliga observation: det är en rackarns KRAFT i musiken! Inget man passerar i förbifarten. Hon föddes iaf i Venedig och fick en rejäl musikalisk utbildning. Giftes bort med en man som, ska man säga, inte var den godaste och hon försökte ta ut skilsmässa men fick inte. Då tog hon sitt pick och pack och tre barn och flyttade till Paris där "solkungen" Ludvig XIV tog henne under sina ekonomiska vingar efter att ha hört henne sjunga. Därefter hittar jag inte mycket info om hennes liv, mer än att hon publicerade verk på verk av musik som idag ligger i franska nationalbibliotekets arkiv. På repertoaren finner vi mest vokal musik, både kyrklig och profan, enligt tidens mode-former: kantater, motetter och operan l'Ercole amante från 1707. Ofta med avancerade sopranstämmor som vissa menar att hon själv var en extremt bra sångerska i sina dar.